What are the best beaches beaches of St Maarten? Well look no further! Between 2017-2020, I have spent a total of 4 months on this dual country Caribbean island. I feel very comfortable on St Maarten and have come to view this island a second home. Although I am much more familiar with the French side of St Martin, I do have some love for the Dutch side as well. You can find my guide to the best beaches of St Martin here. St Maarten has so much to offer with some fantastic beaches. I hope you find this guide helpful in your travels to this great Caribbean island.
St Maarten-The Dutch Side
St Maarten is the Dutch side of this dual country island in the Caribbean. The island is located in the Lesser Antilles group of islands on the Leeward side of the Caribbean Sea. On the island, you'll meet some of the friendliest people. St Maarten is often referred to as "the friendly island" with people from over 80 different nationalities calling this their home.
On St Maarten, you will be able use multiple forms of currency. They accept the Netherlands Antillean guilder as well as American dollars. You can use this currency converter for reference if needed. From personal experience, I have found that using American dollars is sometimes the better alternative. Depending on what credit card company you use, you can save some money on conversion rates if you use American currency. But check with your credit card company for their policy before you arrive to the island. This will save you a lot of headaches.
The main language in St Maarten is English with some Creole influences. Dutch is also spoken on the island, but you will have no problems just speaking English. Even on the French side, almost everybody on the island speaks English. Tourism is the number one industry on the island and they appeal to their customers needs. St Maarten has so much to offer for all guests and visitors. I hope this guide helps you find the best beaches of St Maarten for your visit.
The Best Beaches
1. Cupecoy Beach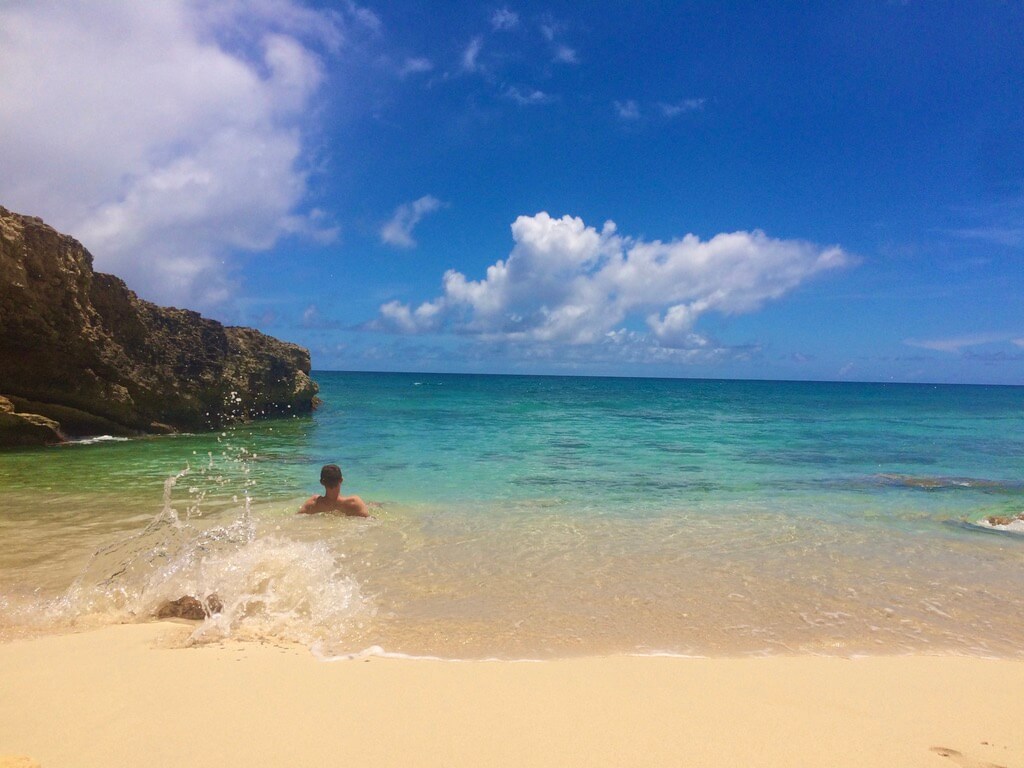 Cupecoy Beach is located on the far west coast of the Dutch side of St Maarten. This beach is actually made up of several small beaches just below the cliffside. You will find numerous pockets on these small beaches all along the Cupecoy area. These beaches can often be the most private beaches you'll find on the island. Keep in mind that there are no vendors on the Cupecoy beaches. There are no chairs or umbrellas to rent either. With that said, just be sure to bring all of your own provisions for the day and you will have a great beach day.
Cupecoy Beach is well known amongst nudists due to the privacy of these beaches. You can find my entire guide to the nude beaches of St Martin here. The sand here is as pristine as you could possibly want. The water is crystal clear blue, bath water warm, and just that perfect Caribbean beach experience. Many of the walkways down to these small beaches may have been damaged in the 2017 Hurricane Irma, so definitely be careful when you are going up and down the stairs here. This might not be recommended for people with mobility issues. Otherwise, this is. a great beach for some fun in the sun.
2. Maho Beach
Easily the most famous beaches of St Maarten, Maho Beach is popularly known as the airport beach. At this famous beach, you will have airplanes flying directly overhead as they land on the runway just behind the beach. This is also where you can see airplanes take off from and feel the sheer force of the jets as they fly away. You can find the times of projected take offs and landings here. I highly recommend that anybody who comes to St Maarten visit Maho Beach at least for a quick. stop. I wouldn't plan to spend more than 30 minutes here though because it can get quite busy and rowdy.
Be sure to follow the rules that are posted on the signs by the beach. Some people have gotten injured over the years from the sheer force of the planes because they entered restricted areas. The safe areas are well marked, as are the dangerous zones. Although it may be tempting to feel the full force of the planes take off, just know that people have gotten injured and even died from this. But as long as you remain in the safe zones you have nothing to worry about.
As far as a beach goes, it's fairly small and not the best beach on the island for relaxing. This is easily the busiest beach for tourists and you will find lots of people partying and having a good time. There are several resorts and restaurants and bars just along the edges of the beach. Maho Beach is great fun and a fantastic stop on your trip to St Maarten.
3. Great Bay Beach(Philipsburg)
Philipsburg is the capital of the Dutch side of St Maarten and is home to Great Bay Beach. This town is one of the most popular and busiest beaches on the entire island, mostly due to the cruise industry. If you arrive to St Maarten by cruise ship, you will be let out into Philipsburg. This historic walking town offers countless shops, restaurants, bars, and beach rentals all while having a fun party vibe. If you're interested, I have a full guide to Philipsburg for vegans that you can find here.
Great Bay Beach itself typically has very calm waters and a beautiful white sand beach. You can find countless areas to rent beach chairs and umbrellas here as well. Due to the large number of people, this can sometimes be a bit of rowdy area with many people getting drunk and just having a good time. Not that there is anything wrong with that, but just be aware that you probably won't have a very relaxing beach experience here. Nevertheless, this is still a fun way to spend the day on St Maarten.
4. Mullet Bay Beach
Mullet Bay Beach is located just one beach to the west of Maho Beach. This beach is situated near the popular Mullet Bay golf course and resort area. You can find this beach just outside of the main golf course area. You will find lots of local beach vendors on Mullet Bay Beach, selling everything from coconuts to beach chairs to food stands.
This beach tends to be very busy during certain days. The waves here are usually a little rougher than other beaches on this list, depending on when you visit. Some people find that very enjoyable, especially if you are interested in surfing or any other water sports. The beach area is pretty nice with lots of shade under trees that line the beach. This is not my favorite spot to come just because of how busy the beach gets sometimes. If you are looking for a private beach experience then this might not be the one for. But of course all of this depends on the specific day that you visit.
5. Dawn Beach
Dawn Beach is located on the far east side of St Maarten, close to the French border. The Dawn Beach area of the island is home to many high end homes, beach clubs, and yacht clubs. This beach offers views of St. Barths off to the east. The beach itself is quite rough with less than ideal swimming conditions for someone like myself. This area has seen its fair share of damage from the 2017 Hurricane Irma and is truthfully still in recovery. I hope you enjoy your experience at Dawn Beach if you decide to visit.
Overall Thoughts
Overall, I really enjoy the beaches of St Maarten. I personally still prefer the French side of the island, St Martin though. This is mostly because the French side has a much more laid back vibe to it. St Maarten is notorious for bad traffic and I have experience that first hand quite a lot. Depending on whether or not any cruise ships are docking that day, you can sit in traffic for a very long time. The entire island has over 37 beaches total so obviously I did no cover all of the beaches, just ones I felt were noteworthy.
The Dutch side is much more populated than the French side. That added to the fact that the cruise port is also on the Dutch side means there are lots and lots of people here. St Maarten definitely has its upsides over St Martin though. The entire Dutch side of the island has a tourist, casino, almost Americanized sense to it. Lots of restaurants, bars, and nightclubs. It's just not as relaxing of an area.
I hope you found this guide to the beaches of St Maarten to be informative and helpful. I have fallen in love with this island over the years. Hopefully once you visit some of these beaches yourself, you will fall in love with it as well. If you enjoyed this content, be sure to follow me on social media and join my newsletter to stay up to date on all of my travel content.