Ooh La La! Whether you are coming to St Martin for a vacation or enjoying a longer stay, this dual-country Caribbean island is well known for its clothing optional beaches. Visitors from all over the world come to St Martin to enjoy the beautiful weather, friendly people, fantastic white sand beaches and crystal blue waters. You'll find all you need to know in this nude beach st martin guide!
St. Martin/Sint Maarten
St. Martin is the French half of the dual country island that is Sint Maarten and St. Martin. Sint Maarten is dutch side of the island. St. Martin is the smallest island in the world to be more than one country. Although the island has dual countries, you don't need a visa to pass from side to side. St. Martin has constant open borders, with no need for any logistics to pass between the two. The two countries differ greatly from one another.
Sint Maarten, the Dutch side, has a much more tourist friendly vibe. You will find countless beach bars and restaurants along with some high rise buildings. The Dutch side boasts a faster pace and a completely different mentality of the people who call this area home. If you arrive to the island by cruise ship, you will be entering into the Dutch side town of Philipsburg. This makes the Dutch side much more populated and popular amongst tourists.
St. Martin, the French side, has a different vibe completely. You will find no high rises on St Martin. The French side is known for great restaurants, fantastic and affordable wine, and that French je ne sais quoi. In short, if you want a relaxed island experience St. Martin is the side for you. Sint Maarten is better for people who want a fasted paced, island center experience.
The Best Nude Beaches of St Martin
While there is only one official nude beach on St Martin, Orient Beach, many other local beaches have been unofficially sanctioned as a regular spot for nudists. This list is in no particular order.
Orient Beach
Orient Beach is the official nude beach st martin has to offer. This beach is on the northeast side of the French part of the island. This beach is situated in the very popular town of Orient Bay. This French town offers countless beachfront restaurants and bars, with some of the best nightlife you can find on either side of the island. If you are interested in my vegan guide to this part of the island, you can check out my guide here.
Although Orient Beach is technically a nude beach, the entire beach is not nudist friendly. To the southernmost part of this beach is the official nudist beach. Up until the 2017 Hurricane Irma that left this island with some destruction, a nudist resort existed in this location. If you go to the beach today, you will still see much of the debris from this once thriving nudist resort.
Even though the resort may not be existence anymore, on any given day you will see dozens to a hundred nudists on this beach. You may rent chairs from a local vendor here. There is also a small shack that offers drinks and some small fare food items. I personally have enjoyed every visit I've had to the nudist beach here. You will mostly see older people, but sometimes a few younger people will come along as well. There are even volleyball nets and a swim platform to swim out to. Don't miss out on the swim platform, it's a super fun experience.
PRO TIP: The beach can get quite busy depending on whether or not a cruise is scheduled to make port that day. Get here early if you want to be sure to get a good chair up front by the water!
Just a short hike around the northern part of the French side of St. Martin is the Petites Cayes Beach. The walk to this beach goes through a nature preserve, and takes about 30 minutes at a moderate pace to reach the beach. I wouldn't recommend this hike to people that aren't usually active, but for a moderate exerciser it shouldn't be a problem.
Petites Cayes Beach is not technically a nude beach, but it is a hidden gem where you can usually find nudists. The only way to reach this beach is hike, making it very private and a great spot to take your clothes off and get a full body tan!
Pinel Island
Pinel Island is a small island off the coast of the northeast part of the French side of St. Martin. The island is accessible only by boat, either personal or a public ferry. I have a vegan food guide to Pinel with some additional information here. Pinel is a very fun way to spend the day.
But don't go stripping down the second you get off the ferry. All of Pinel Island is not a nude beach, but there is a small section of the island frequented by nudists. The southern part of Pinel Island is built into a swim area with some restaurants and plenty of lounge chairs to rent. If you hike to the north part of the island, there is a small beach where you will often find people in the nude. Keep in mind that this is not technically a nude beach so take caution. But you will often find other people there in the buff.
Cupecoy Beach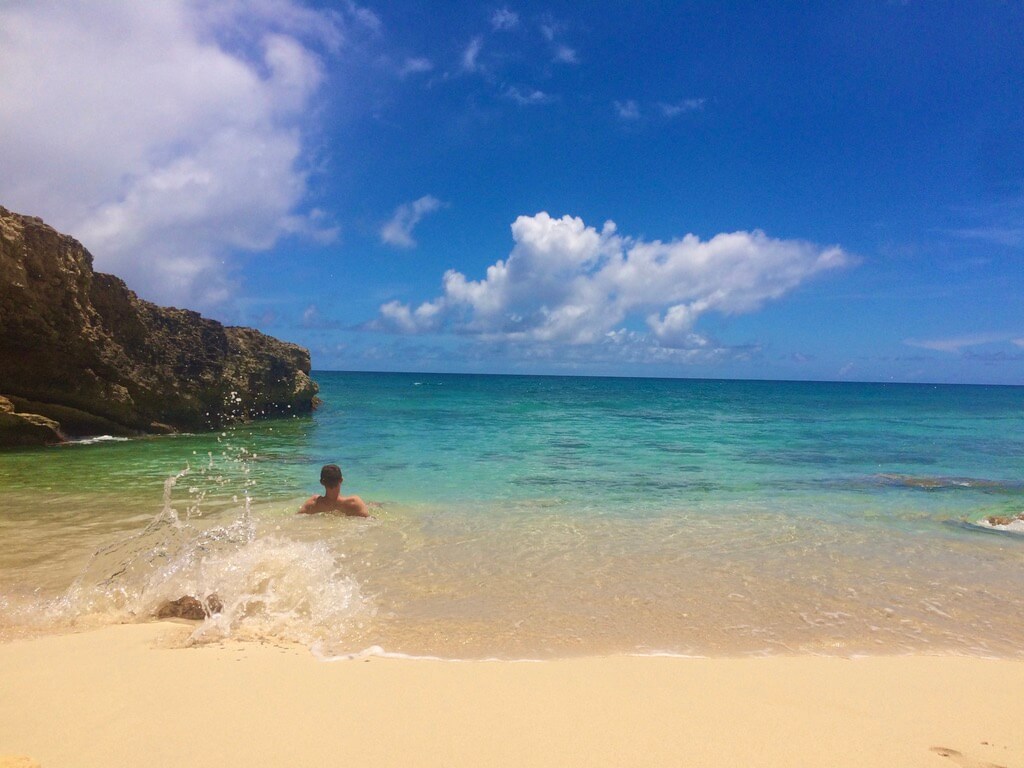 Cupecoy Beach is actually on the Dutch side of the island of Sint Maarten, not the French side. This is a high end part of the island, with many nice large condo buildings and high end properties. Situated on a cliffside part of the island, you'll find small little beaches situated just beneath the cliffs. Some of these beaches have stairs and walkways down to the beach. You will very rarely ever see anybody else at these beaches.
Again not an official nude beach, you will often find people sunbathing in the buff down on these beaches. I once came here with my partner and enjoyed an entire day in the nude on the beach without seeing any other people. Keep in mind that there are no bars or restaurants or even chairs to rent. It's a very private and secluded beach area but just be sure to bring your own stuff.
Happy Bay Beach
Happy Bay Beach is located just outside of the popular town of Grand Case on the French side of St. Martin. Grand Case is a very well renowned town for fantastic food and some of the calmest waters on the entire island. I've published a full vegan guide to Grand Case here, in case you're interested.
Happy Bay is a little bit more difficult to get to compared to the other beaches, which is why i've listed it last. Most likely you'll use your phone map to get here so it won't be difficult to find. This beach is technically located inside of private property, but the beach itself is not private property. The main confusion with this beach is that there is a no trespassing sign on the outside, but everyone I've talked to says there is never a problem going to this beach. Just be prepared for a small walk from your car to the beach.
Again, Happy Bay Beach is not technically a nude beach but is often frequented by nudists. This beach is very popular with the LGBT community on the island as well. If you are looking for what is called the "gay beach", this is it. There are no gay defining factors but more of a local tip. When facing the ocean, the beach are to your far right is typically where the nudists will congregate. Happy Bay is typically not very busy and a great way to spend the day naked!
Nude Beach St Martin Etiquette
Prior to coming to St. Martin, I had never experienced a nude beach before. Let's just say that I love it and am officially hooked. Before coming, I definitely had some reservations and nerves about the whole experience. For any first time nude beach goers, here's a few tips and general etiquette for while you're on a nude beach:
NO PHOTOGRAPHS! As a courtesy to everyone on the beach, it is requested that no photos are taken unless you can be sure nobody else is around. Everybody wants to be able to feel comfortable while being nude without worrying about being photographed.
NO POINTING! Pointing in general is pretty rude but definitely try not to point and stare at people while on the nude beach.
RELAX! Contrary to what our brains may tell us, people really don't care what you look like naked. I found myself feeling very free during my visit.
HAVE FUN! Just have fun with it. Nudists tend to be very open minded and friendly people. You will often find yourself talking to more people than you might in a clothed setting.
SUNSCREEN YOUR JUNK! If you are as pale as I was when I first came here, don't forget to put some sunscreen on your private parts. Nobody wants a burnt hot dog on the first day of vacation.
TOPLESS IS FINE MOST PLACES! Being a European country, it is not abnormal at all for both men and women to be topless at the beach at all ages.
---
I hope you enjoyed this nude beach st martin guide and found it useful! Feel free to follow my social media accounts and join my newsletter to stay up to date with my latest posts! Thanks so much for following along
-Hayden